wholesale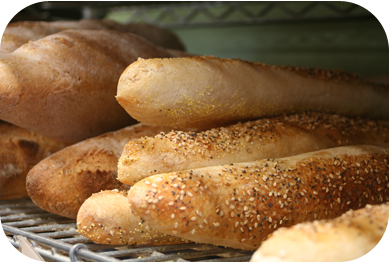 Fornax breads are available at wholesale prices to restaurants, cafés and bakeries. Please contact Chris Fallon between the hours of 8am until 2pm, Monday through Friday, at 617-325-8852 to request bread samples and pricing.
Our Wholesale breads include a 3# Semi-sourdough boule, a 3# peasant boule – both great for table breads, 3# boules of multi-grain, pumpernickel, walnut–raisin and rye for a delicious and distinctive sandwich bread. We also offer baguettes, sandwich rolls, brioche pullmans and more. Call for a complete listing.
We deliver 7 days a week. Our terms are that you will receive an invoice on Saturday for the previous week's bread, the statement is payable upon receipt and we will have to cancel your order if we do not receive payment within 14 days, unless alternate arrangements are made.
Some of our breads require a two day lead time to prepare so call two days in advance to make changes to your order. Please notify us of your holiday schedule so we can plan accordingly. If you don't call us to cancel we will deliver your bread and you will be responsible for it.
Thank you and we look forward to your business.
Chris Fallon
Baker and Co-owner